NCSC Cyber Tales
Diversity & Inclusion
In an increasingly virtual world, it's become more and more obvious that the next big threat waits online.
To stop it, we need to invest, upskill and engage all kinds of people in cybersecurity. That's where the National Cyber Security Centre (NCSC) comes in.
This one's for the girls
Statistically less likely to continue with subjects that could set them up for a career in cybersecurity, the NCSC took steps to engage girls at school early.
They wanted to diversify the cybersecurity talent pool and show young girls that they already have what it takes to build a career worth fighting for.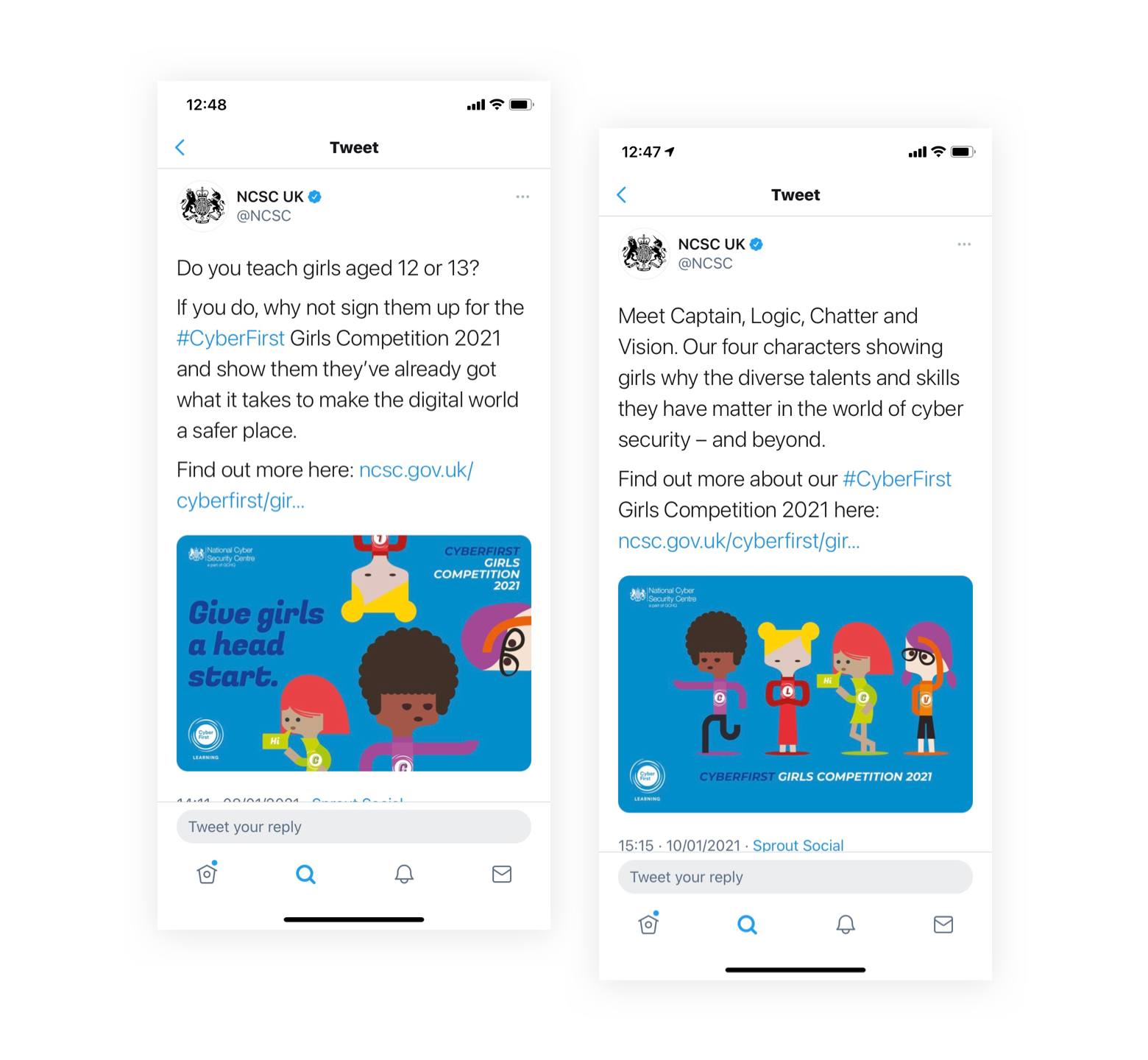 They had already created CyberFirst Girls Competition for 12–13-year-olds. Now they wanted to get the word out there. That's where we came in.
We needed to help NCSC increase awareness of the Cyberfirst Girls Competition amongst schools by cutting through all other comms.
We needed to help NCSC appeal to schools with higher concentrations of students from lower, socio-economic backgrounds.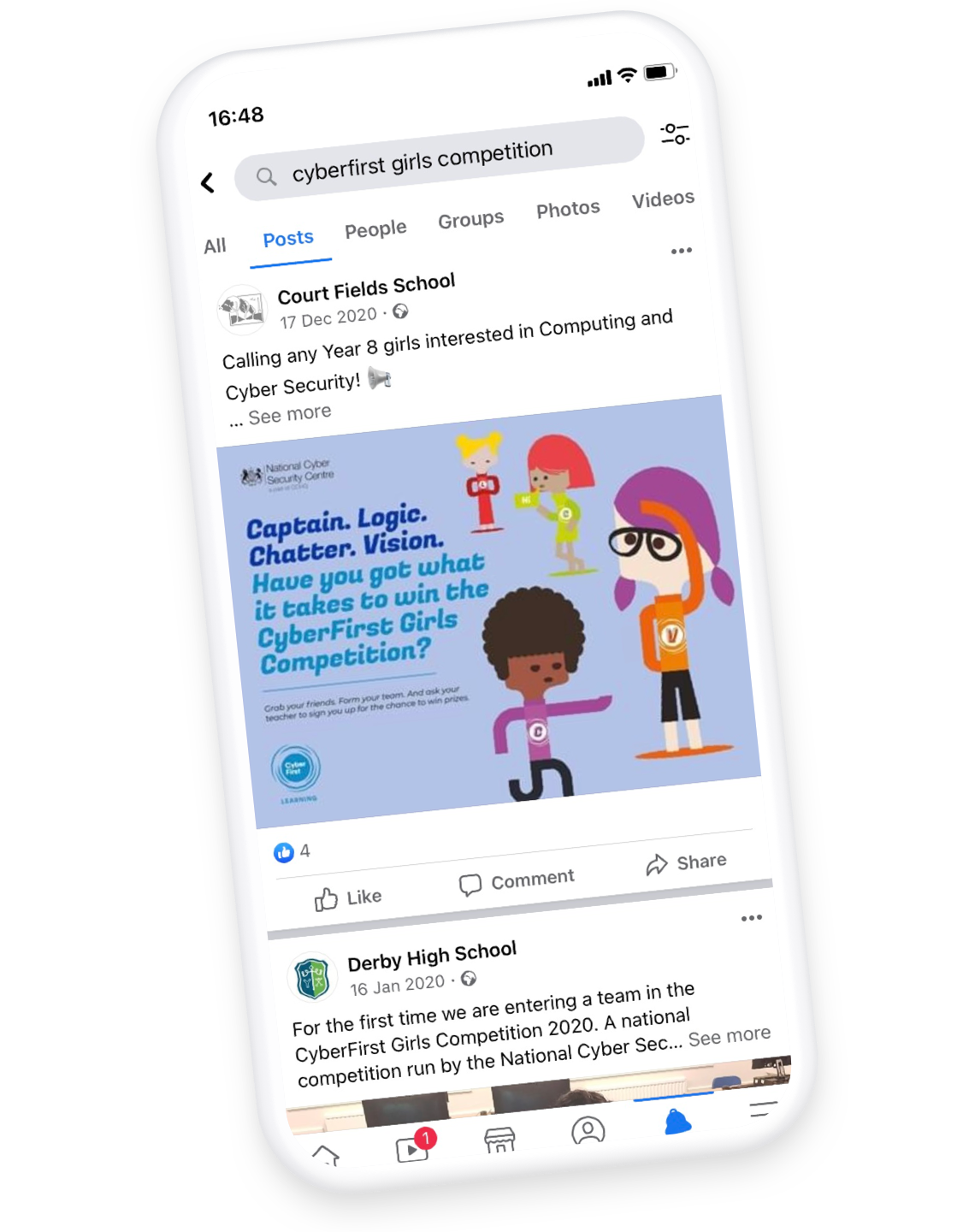 And we needed to make it easy for the schoolteachers to promote, engage and then sign up girls who expressed their interest.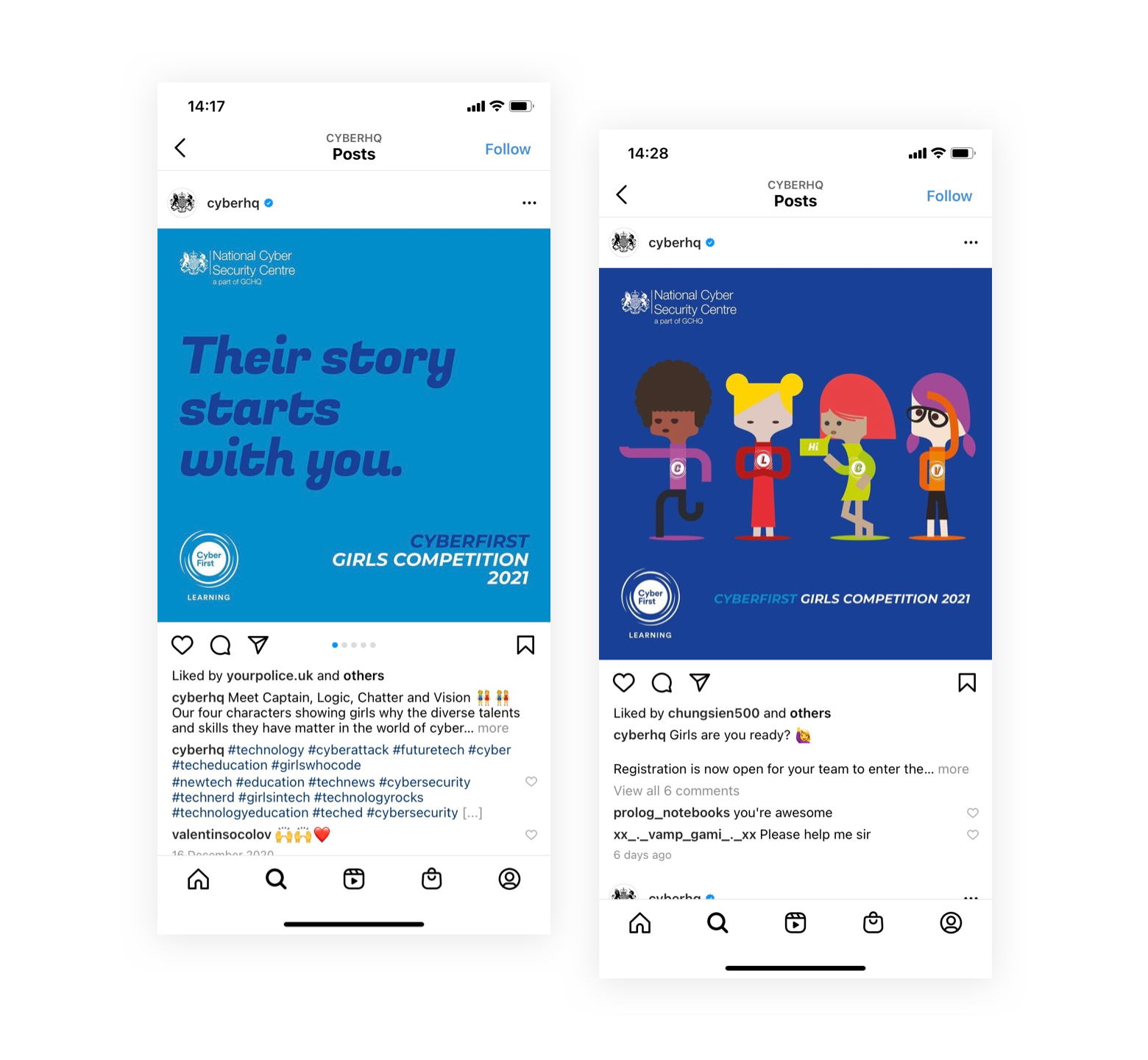 Cyber Tales
A stand-out campaign that would make cybersecurity relatable to our two target audiences: 12-13-year-old girls and their teachers.
Colourful. Fun. Fresh. We created four cyber characters – named Captain, Chatter, Logic and Vision - who would inspire girls to become the heroes of our cyber tales, and show them that their traits would help them do well in both the competition and a cybersecurity career.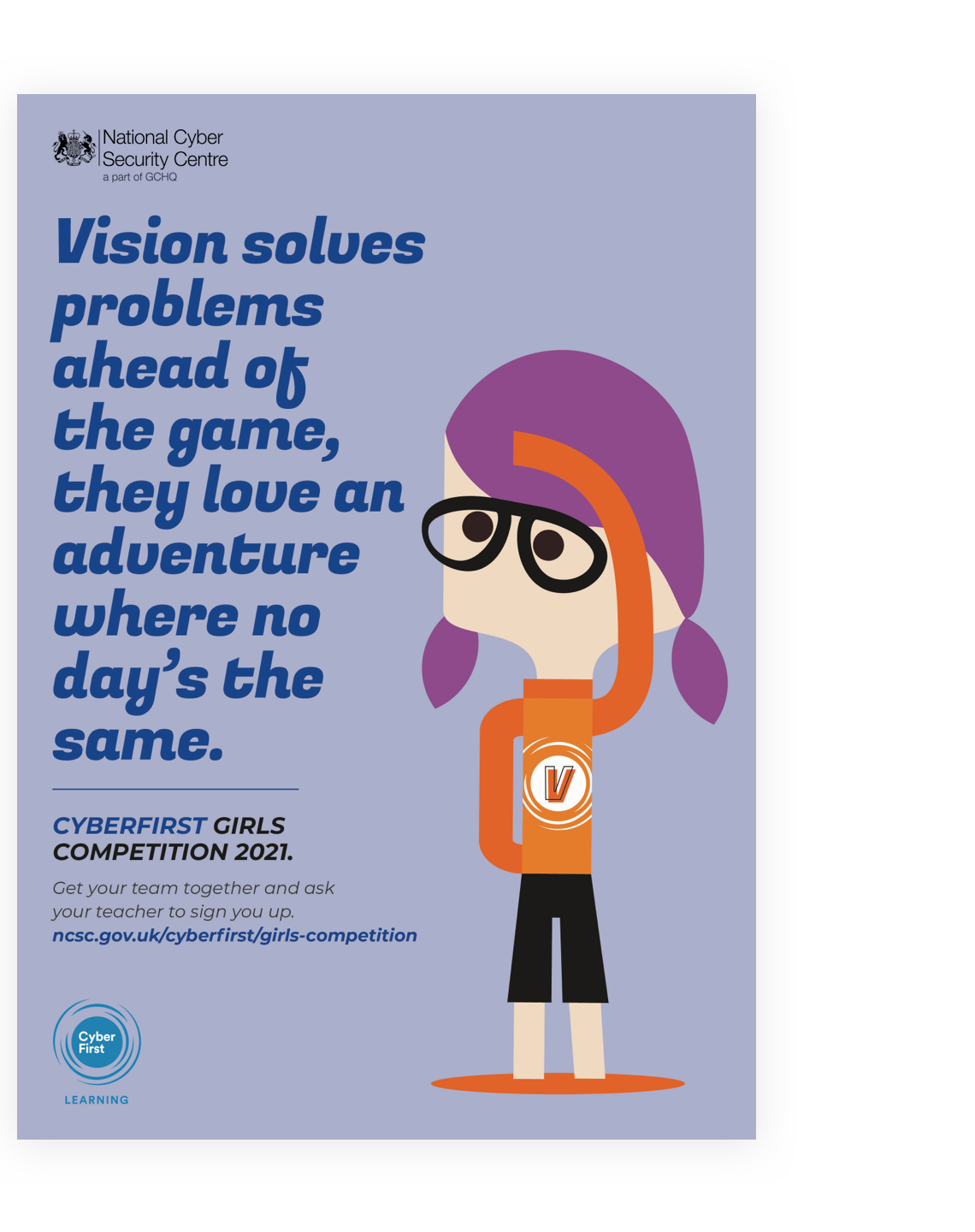 To help the teachers understand the importance of getting their girls involved in the CyberFirst Girls Competition, we created semi-fictional cyberattack stories that would capture their attention and feel relatable.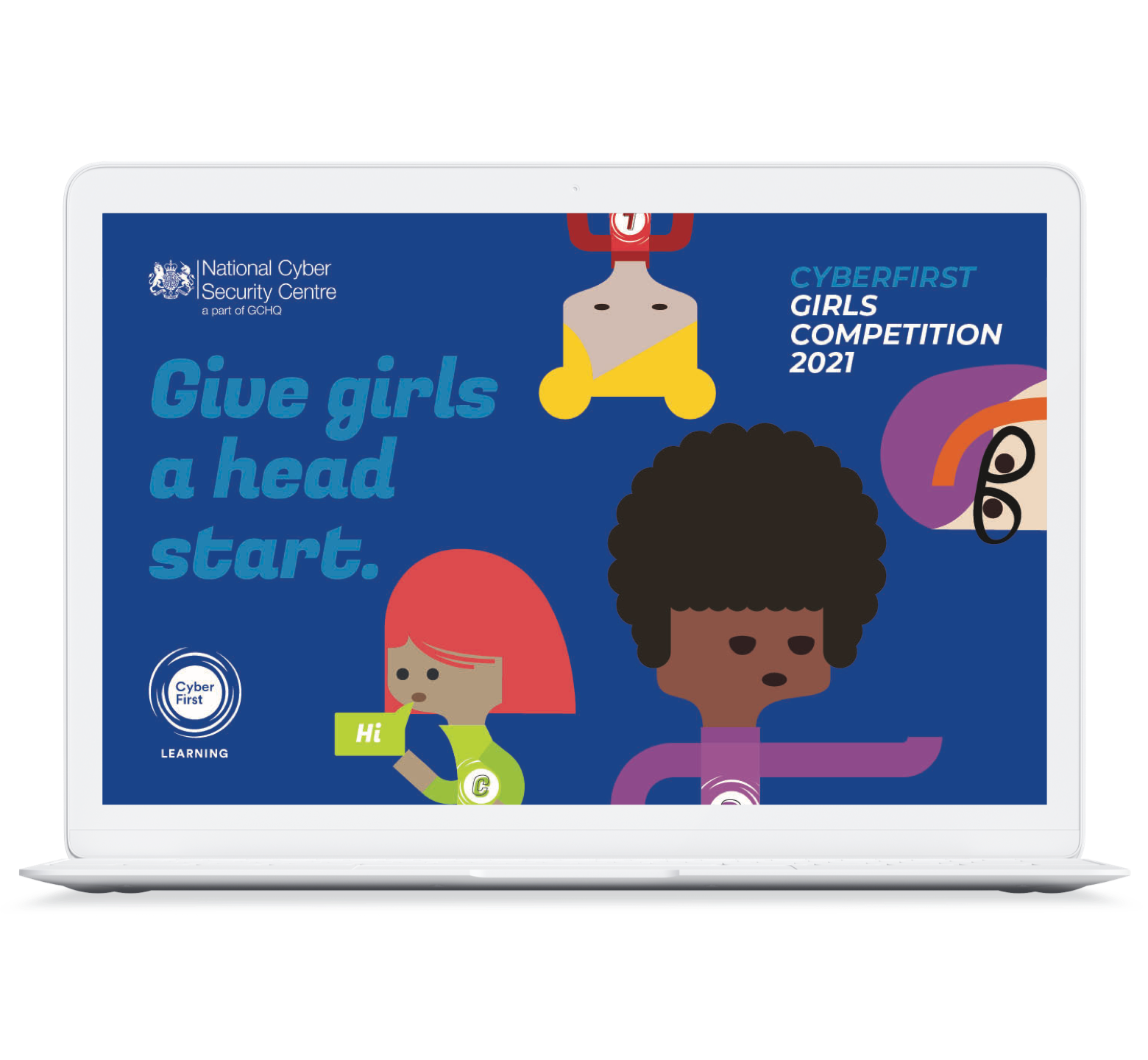 We blitzed LinkedIn, Facebook, Instagram and Twitter. We printed posters, wrote exciting stories, emails, engaging letters to teachers and parents.
We raised awareness and encouraged sign-ups to the competition. And we compelled students, teachers and parents to discover more about making the cyber world a safer place.